This is how it works: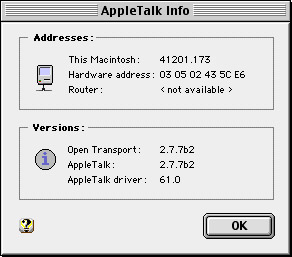 1. If you have Airport - use the tool
2. Go to the Apple-Menue (Mac OS 9)
3. Select Control Panels - Apple Talk
4. Select "Ethernet" - if not already selected
5. Get "Information" (Command-I)
For reason of data protection you don't have to tell us the full number, you replace the last two digits with "XX".
E.g. for "03 05 02 43 5C E6" you type "03 05 02 43 5C XX"
We need this information for our copy protection system.
On Mac OS X it's part of the Network settings, choose "Ethernet".
You can alternatively use these tool applications to find the hardware address:

For Mac OS 9: hw_address_9.sit
For Mac OS X: hw_address_x.zip
---
home | f.a.q. | buy online | support | links | imprint

Ploytec GmbH - Fahrnauer Str. 64 - 79650 Schopfheim - Germany
ASIO, Cubase, Cubasis, Nuendo and VST System Link are trademarks of Steinberg Soft- und Hardware GmbH, UA-1A / UA-1D / UA-3 / UA-3D / UA-5 / UA-20 / UA-30 are trademarks of Edirol, a member of the Roland Group, Digital Performer is a trademark of Mark of the unicorn, MSP is a trademark of cycling74, MAX, Vision DSP and SonicPort are trademarks of Opcode Systems, Inc., Macintosh (Mac) is a trademark of Macintosh Laboratories, Inc. licensed to Apple Computer, Inc. - iMac, iBook, PowerBook, Cube and SoundManager are trademarks of Apple Computer, Inc., Logic Audio, Micrologic and EMI 2|6 are trademarks of Emagic GmbH, Peak and Deck are trademarks of Bias Inc., Spark is a trademark of t.c. works, Reason is a trademark of Propellerheads, Absynth, FM7, Reaktor and PRO-52 are trademarks of Native Instruments, MSE-U33 and SE-U55 are trademarks of Onkyo, AudioSport Duo and Quattro are trademarks of MIDIMAN / M-Audio, UW500 is a trademark of Yamaha Corporation, USB ONE is a trademark of Media-Assistance, U2A, U24 and Gigaport AG / DG are trademarks of ESI (EgoSys), USB Studio is a trademark of Swissonic Switzerland, USB3 is a trademark of Aardvark, iMic is a trademark of Griffin Inc., Extigy is a trademark of Creative Labs, Mbox is a trademark of Digidesign, Celeron is a trademark of Intel corporation and Windows (Win) and MultiMedia Extensions (MME) are trademarks of Microsoft corporation
| | | | |
| --- | --- | --- | --- |
| | | Virtual synths from Native Instruments: | |
| | | | |
| | | | |
| | | | |
| --- | --- | --- | --- |
| | | Need USB hardware? | |
| | | | |
| | | | |
| | | | |
| --- | --- | --- | --- |
| | | A cool device: | |
| | | | |
| | | | |
| | | | |
| --- | --- | --- | --- |
| | | Listen to Edit_H: the band the USB ASIO driver was originally developed for... | |
| | | | |
| | | | |
| | | | |
| --- | --- | --- | --- |
| | | Want to train your perception? | |
| | | | |
| | | | |